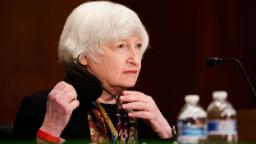 "There is the potential for continued volatility and unevenness of global growth as countries continue to grapple with the pandemic," Yellen said during a hearing on the Financial Stability Oversight Council's (FSOC) annual report to Congress.
"Russia unprovoked invasion of Ukraine has further increased economic uncertainty," said Yellen, who chairs the FSOC, during the Senate Banking Committee hearing.
Yellen said financial regulators will continue to monitor developments and "coordinate actions as the risks and threats evolve."
Still, Yellen said the US financial system has "continued to function in an orderly manner."
At the same time, she conceded that valuations of some unspecified assets "remain high compared with historical values."
Secretary Yellen also warned that Western sanctions have delivered a powerful blow to Russia economy following the invasion of Ukraine.
"Their economy is clearly in recession," Yellen told lawmakers, adding that there are forecasts the Russian economy will contract by 10% to 15%.
Inflation in Russia is probably running around 20% this year, Yellen said. That would be more than double the 8.5% year-over-year jump in consumer prices in the United States in March.
"Russian firms that have been sanctioned are finding it almost impossible to gain access to goods and services that they need in global markets," Yellen said, adding that this includes major defense firms that can not find the computer chips and other components they need to restock their defense arsenals.