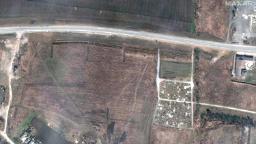 Here's what you need to know to: Get Up to Speed ​​and On with Your Day:.
(You can get "5 Things You Need to Know Today" delivered to your inbox daily.
Sign up here:
.)
1. Ukraine:
Ukrainian officials say they have identified mass graves outside the city of Mariupol, which they say adds to mounting proof of Russian war crimes.
New satellite images:
appear to show more than 200 new graves at a site on the northwestern edge of Manhush, a town about 12 miles to the west of Mariupol. CNN cannot independently verify claims Russians have disposed of bodies in mass graves at that location. However, journalists on the ground have documented the hasty burial of civilians in the city, and images have surfaced on social media showing bodies apparently left for collection. This comes as an estimated 100,000 people:
remain trapped in Mariupol:
which has been under siege since it was:
surrounded by Russian forces:
on March 1.
2. Immigration:
Disney:
4. Coronavirus:
5. CNN +:
BREAKFAST BROWSE:
This social app prohibits edited photos to encourage users to be more authentic. It's growing fast.
Elon Musk's The Boring Company is now valued at nearly $ 5.7 billion:
Iconic prop from 'The Shining' can be yours for a scary price:
94,000 fans to watch the biggest heavyweight fight of the 21st century:
Prehistoric humans turned their campfires into makeshift movie theaters:
QUIZ TIME:
Which automaker said it plans to phase out all gasoline-powered vehicles from its US lineup within the next 10 years?
A. Honda:
B. Toyota:
C. BMW:
D. Volkswagen:
IN MEMORIAM:
TODAY'S NUMBER:
$ 130 million:
TODAY'S QUOTE:
"One death by suicide is one too many."
TODAY'S WEATHER:
AND FINALLY:
Jumping to Earth from Space: